Joe Levine, Writer from SportsGrid
Guess who's back?!?!?! Los TeBros!!!!

It's been a while, but it's great to be writing again. Sorry to those who have been waiting for more articles. Thank you for your patience!
Back to the point at hand, the first Really, Bro? of the 2012 NFL season is dedicated to Joe Levine's article discussing Pittsburgh Steelers' Pro Bowl safety Ryan Clark's "dirty" hit on New York Giants' receiver Victor Cruz last night. Eli Manning threw a pass intended for Cruz in the endzone which ended up being dropped by Steelers corner back Ike Taylor. Steelers fans' emotions went from being a little upset by the dropped interception to being happy that they forced the Giants to settle for a field goal and then to being infuriated by an unnecessary roughness penalty called against Clark.
Remember that GIF is in slow motion. In real time, that was a bang-bang play. I know it looks bad watching in slow motion, but what if the ball somehow got past Taylor? In football, also true in about any sport, a player has to anticipate bad plays like that to occur. Clark is a very intelligent football player and is always where the action is. If you look at the play over, Clark is already anticipating the ball to be in Cruz's hands as he gets ready to knock the ball loose. He's not expecting Taylor to "deflect" the pass.
Ryan Clark posted this on his Instagram account:
"@realr

clark25: Looks clean to me! We'll see!"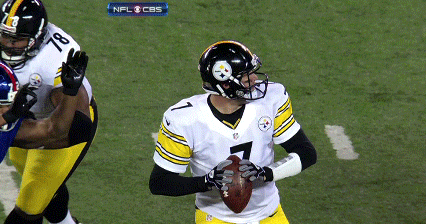 While this unnecessary roughness "penalty" AND the Roethlisberger "fumble" deserve their own Really, Bro?'s, the article Joe Levine deserves one the most. Not only does he call the play "dirty," he goes on to call Clark an "idiot."

Here's what Levine wrote:

In the second quarter of today's game between Pittsburgh and New York, the Giants face a 3rd-and-goal from the two yard line. Eli Manning took the snap, evaded the rush, and threw a bullet intended for receiver Victor Cruz that fell incomplete, forcing a fourth down. Or so it would have, if Pittsburgh safety Ryan Clark hadn't illegally speared him in the end zone for the unnecessary roughness penalty to give New York a first-and-goal.

Both an idiotic and dangerous play for Clark, as it not only gave New York a fresh set of downs, but also put Cruz's safety as risk, as Cruz lay motionless in the end zone after the hit.
Levine continues:

Thankfully, Cruz would just be momentarily shaken up with a rib injury and the Giants would score on the next play. Way to go, Clark, you idiot.

And just to show that instant karma will get you, the Giants returned a Ben Roethlisberger fumble for a touchdown on the ensuing Pittsburgh drive.
Wait, what??? All I have to say is:
"Really, Bro?!?!?!?!?"
Karma? For what? Being punished for playing physical football? Scratch that, for just playing football the way it's supposed to be played? Joe Levine, this isn't flag football

.
Also, let me explain this to you: Ben Roethlisberger did NOT fumble. His arm was clearly going forward and he still had control of the ball. Another missed call, was an obvious block in the back on that fumble recovery "touchdown." If it was Tom Brady, I wonder what the call would have been. That's another story for another time. Back to Joe Levine.
It's one thing to hate the fact that Victor Cruz was injured on the play. Heck, I was too. I was glad to see him get up and continue to play. I hate seeing injuries, but to go out on a stretch to call the play "dirty" and "illegal" is a little too much. Also, the fact that you called Clark an "idiot" deserves a Really, Bro?
You guys know how I feel about this whole thing, how do you guys feel? Dirty or clean? Please let us kn

ow in the comment section below!