Pittsburgh Steelers
Late in Monday Night's game the Steelers were down 20-3 and already injured two-time Super Bowl winning QB Ben Roethlisberger was still under center as they started the drive at their own 14 yard-line. Roethlisberger, who suffered a high ankle sprain the previous game, had a hard time walking/moving and even standing up on one leg, had no reason to remain in the game. Yes, the Steelers blew a HUGE opportunity to claim the top spot in the AFC North and top seed in the AFC in overall, but since Ben was taking hits all game and the Steelers offense wasn't moving against a stingy 49ers defense, Roethlisberger should have been pulled.
Steelers QB Ben Roethlisberger suffers a high ankle sprain in a 14-3 victory over the Cleveland Browns.
For whatever reason, Roethlisberger kept taking snaps under center and getting knocked to the ground, including two Aldon Smith sacks. Steelers 6'8 345 lbs. LT Max Starks, who has been praised for rejuvenating the team since re-signing October 5th, was no match for the 6'4 258 lbs. rookie OLB out of Missouri. The number seven overall pick in the 2011 NFL Draft bull rushed continuously and gave Roethlisberger zero time in the pocket. Even on plays that didn't result in sacks, Steelers fans continued to see their QB get up in pain after taking hits from Smith. Smith finished the night with 2.5 sacks and a forced fumble deep in Steelers territory that ultimately put the game out of reach. Smith even had a sack wiped away after one of his teammates was penalized for holding. Even though a sack wasn't added to the stat sheet and the Steelers got a new set of downs, Roethlisberger was still knocked to the ground and felt the pain.
Associated Press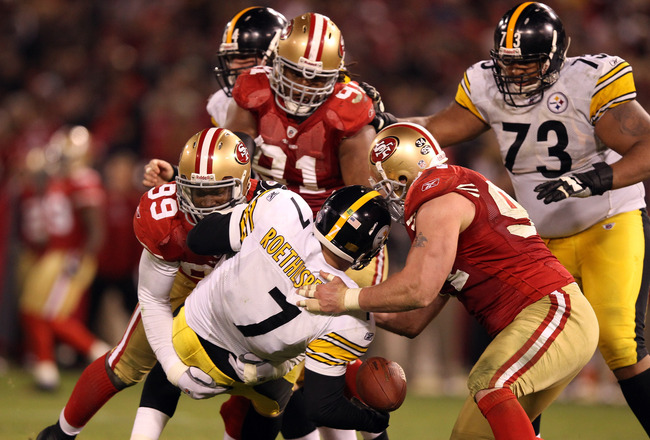 Ezra Shaw/Getty Images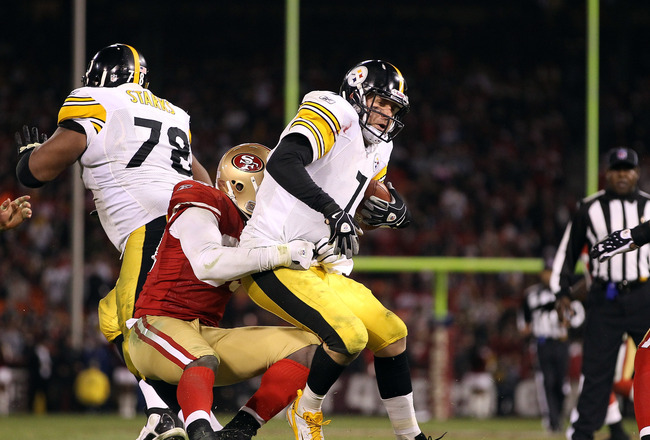 Ezra Shaw/Getty Images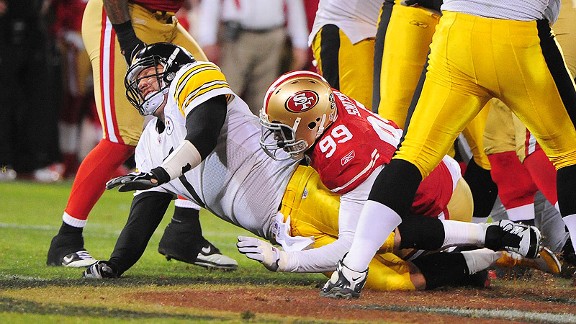 Kyle Terada/US Presswire
With an injured QB, the Steelers offensive line needed to step up, but they failed to do so and that results in a
Really, Bro?
Yes, the Steelers were without Pro Bowl second year Center Maurkice Pouncey, but this performance was still inexcusable. It was obvious that the line could not give the hobbling Roethlisberger any time in the pocket, so why was he still in the game? Los TeBros have no idea. Only thing that can be said/asked is
Your starting QB, who is injured, should not remain in the game when the game is out of reach and continue to take these kind of hits (see above). Whether it was Head Coach Mike Tomlin's decision, Offensive Coordinator Bruce Arians or even Roethlisberger himself; whoever it was, they deserve a
Really, Bro?
While the defense remains as one of the top tier defenses in the league, the usually run heavy Steelers offense has advanced into a pass first team. The offense revolves around #7 and they cannot risk to further injure his ankle.
If it was Roethlisberger's decision himself, he needs to realize that once this must-win game was out of reach, he needs to sit back and rest his ankle, especially with a short week coming up (Saturday game-Christmas Sunday). Los TeBros understand that Roethlisberger wanted to win this game to grab hold of the number one seed in the AFC. In doing so, he took some unnecessary hits and the Steelers still dropped to the number 5 seed after their loss to the 49ers.
While the Steelers offensive line looked terrible, Los TeBros must give credit to the 49ers. They simply outplayed the Steelers after Roethlisberger thew that interception in the endzone on the first drive of the game.
Like Los TeBros mentioned before, Roethlisberger is the centerpiece to this offense and they need him to be healthy enough to play efficiently.
If the Steelers want to have any chance at winning Super Bowl number seven, they will need to keep #7's jersey clean and do whatever they have to do to not appear on a Really, Bro? again.
What do you guys think about the decision to leave Roethlisberger in the game? Let us know in the comment section below.